DNP Mobile Party Print Software (DISCONTINUED)
Brands DNP
Product Code: DNPS-PARTYPRINT
Availability: Out Of Stock
A NEW wireless event photography APP for use with iOS, Android phones, and tablets.
Mobile Party Print (MPP) is a new mobile imaging solution from DNP for event photographers. Install MPP on a compatible Window's PC, configure your Wi-Fi router, connect a DNP printer, and you are ready to go! MPP makes a great rental solution for parties, wedding receptions, or other hospitality events. From click to print in less than 11 seconds!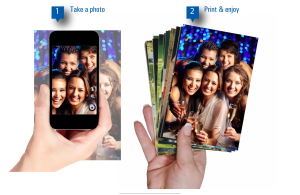 Easy - MPP allows event guests to easily transfer photos via Wi-Fi for instant printing and sharing. Download the FREE app Wi-Fi and print.

Fun - MPP is the modern version of free film cameras on the table. Event guests use their mobile devices to capture memorable candid shots.

Archive - MPP archives all of the images that it prints so event hosts can receive copies.

Versatile - MPP can be customized. Create a start page that every guest will see each time they run the mobile application. MPP can also add a graphical border to each print.
Specifications:
PC
Windows 7/XP (32 or 64 bit)
2GB RAM or greater
1024×768 video resolution or greater
20 GB of free disk space
Mobile Devices
iOS v4.2 or greater
Android v2.1 or greater
Compatible Printers
DNP DS620A
DNP DS40
DNP DS80
DNP RX1
Wi-Fi
802.11 b/g/n *Specific firewall configuration required as per documentation **The number of simultaneous users on the server is dependent on the external router
Print Sizes
DS40 4"x6", 5"x7", 6"x8", 6"x9"
RX1 4"x6", 6"x8"
DS80 8"x10", 8"x12"